Managed Print Services
---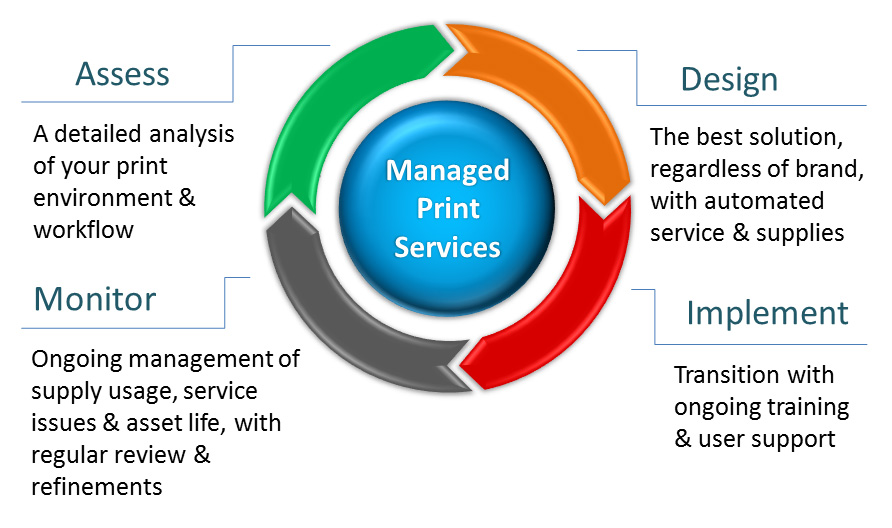 Are you frustrated by the costs of your organisations printing? Are you regularly wasting time on print related issues? Do you feel you are always ordering supplies or always running out? A properly implemented Managed Print Service (MPS) can bring significant cost savings and increase the productivity and efficiency of your organisation.
At DMP we specialise in providing companies with a Managed Print Solution that encompasses hardware, consumables, maintenance and support.
Our goal is to ensure you have the correct fit of devices for your business. We take the time to consider end user requirements and workflows, as well as assessing the costs of your current fleet, to then identify the most productive and cost effective way to manage your print environment.
There is not always the need to invest in new devices in order to achieve savings and efficiency. By applying our knowledge and expertise, we can provide your business with advice on extracting the optimum performance from your existing fleet for as long as possible. When a new device is required, DMP are backed by multiple vendors and so will assess all available options to provide you with the best solution for your organisation, not for the vendor.
When implementing any change, DMP will help you and your staff to establish best practice, and will provide ongoing training and support to help make an easy transition into the best solution.
Once your new print environment is up and running, we will manage it for you on an ongoing basis. This includes tracking and delivering the supplies, monitoring the on-going usage, provide trouble-shooting and support to the user, and attend to on-site repairs and maintenance.
We then perform regular reviews and keep up to date with the latest technology and vendor offerings, looking for ways to further improve and optimise your print fleet.
Your cost accounting is simplified with monthly invoicing based on your print and copy volumes, and reporting tailored to your organisations' needs.
DMP will become your most trusted resource by providing your business with the best solution and you will relax knowing you have dependable printing without any hidden costs.